On our June visit to Ellan Vhow we discovered a dressed stone complete with groove for receiving leaded glass and a socket for an iron "ferramentum" to support the glass.
Tom Addyman
of Simpson & Brown (and the standing buildings expert for our expedition) has provided the following description of the features of this stone.
The right hand side of your photo of the stone is the exterior of the window. The chamfer at the angle would be visible externally.


Running from right to left, after the chamfer there is the glazing groove – for
leaded glass slotted in and affixed in place with lime putty.
Inside this is the socket – because it is inside the glass it is for an iron cross-member – a ferrimentum – this was to support the leaded glass panel – which
would be wired to it.

Example of a ferramentum.
Behind that there is the
check or rebate/rybat (sometimes called 'rabbit'
..!), which is the step-back at the inner side of the window dressing (i.e. dressed stone) – this then angles back for the splay of the inner jamb (side) of
the window.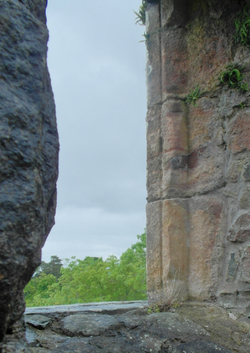 Similar dressed stones in a Campbell castle ruin near Grangemouth. Viewed from the interior.