We had great meeting in Edinburgh on April 18 with Fiona Baker, Tom Addyman, and David Connolly. The team exchanged and updated information on Elanvow and laid out the remaining work to complete the requisite report for HES SMC 2 report.

April 19 and 20 were set aside for visits to the island. I was fortunate to visit the dig at the presumed site of the seventeenth century almshouse built by John 15th chief and son of Elanvow's Andrew. It was a pleasure to meet Heather James and her team and see the last stages of the dig as it was back-filled and covered.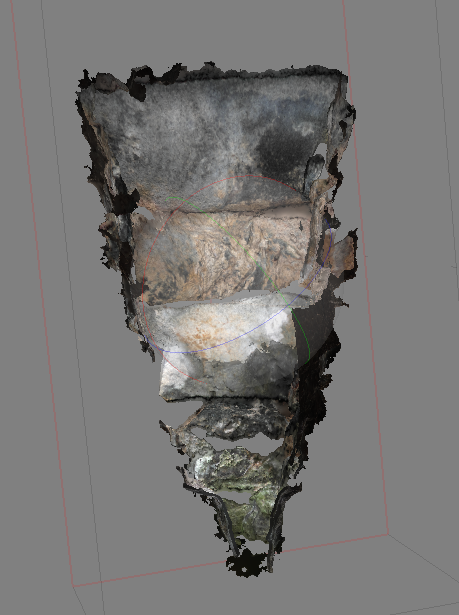 Loch Lomond Wakeboards provided transport to the island on Wednesday afternoon and Thursday. They are located at the Ardlui Hotel Marina and are highly recommended for access to the island.

This trip was a bonus trip and focused on photographing the East Wall vault air vent and capturing photogrammetry images in hopes of filling the the model of the island grounds below the tree canopy. Some foliage cleanup was done as well on safely accessible portions of the tower per the HES SMC.

The photographs and derivative 3D model showed clearly that there was a second vault and the East Wall vent is tapered with stepped lintels.

We also now have all we need to propose signage and are working on a draft for consideration by the Loch Lomond and the Trossachs National Park. We will post that shortly and will appreciate review and comment.

While in Edinburgh, the team also reviewed Simpson and Brown's recommendations for repairs to the tower and vault. The costs will be substantial and the team identified potential sources for funding. As we complete SMC2, we will be proposing SMC3 and seeking funding.

More to follow!